Jean Piaget and the "Young Friends of Nature"

The Young Friends of Nature Club was founded in 1893 by Albert Loosli and Pierre Bovet. These two 15-year-old school boys (who went on to become an art critique and a philosopher) decided to "set up a natural sciences club," for secondary, Latin or grammar school students.
The young Piaget
Piaget aged 20; detail of an oil painting by Léon Nancey


The Friends of Nature met to share their observations and study together. It was a scientific club where members worked seriously. Discretion was encouraged, as illustrated by its motto, "To live happily, let us live in hiding." The club, differed, therefore, from traditional student societies whose members wore uniform and obeyed strict rules.
The club met every fortnight, first of all outside and then in premises which would often change over the years. The members gave presentations on a natural history-related topic. They held lectures, had informal chats and sang the "Whistle of the Friends of Nature." The philosophical debates were lively and particularly popular. They organized botanical, paleontological and zoological excursions and even went butterfly hunting. They also carried out group work such as a classification of the canton's batrachians in 1913.
Paul Godet, a naturalist and curator of the Natural History Museum in Neuchâtel, was the Club's mentor and science patron until 1911. He believed that observation and contact with nature were essential in the training of a naturalist. He discouraged members from "philosophizing instead of observing," but it appears that this motto was not always adhered to.
During the Club's early years, the members' work comprised mainly of observations and descriptions of phenomena (on one occasion, a member even talked about his dog). Under the influence of Paul Godet, they then became interested in the identification and classification of species. It was in this atmosphere that Jean Piaget carried out his first research.
Piaget was a member of the Friends of Nature from 1910 to 1915 (between the ages of 15 and 19). He was, at this time, fascinated by mollusks and was already an expert on their classification and a corresponding member of several academic societies abroad. He presented his collections and research on mollusks to the club's members who considered his work to be the most interesting and the most scientific. In addition to his active participation in the sessions, he greatly contributed to the humorous atmosphere that existed in the club. According to Pierre Bovet, Piaget was the Club's "ornament."
Another very dynamic member of the club (from 1912 to 1916) was Juvet, a friend of Piaget's and a future mathematician. Juvet believed in determinism while Piaget defended Bergsons's idea of "Creative Evolution." The life of the Club was characterized by their lively debates in which mechanical reductionism was set against the philosophy of the vital impulse ("l'élan vital.") Gustave Juvet's influence is evident in the numerous references that Piaget makes to the mathematician and geologist in a volume of the Encyclopédie de la Pléiade (Logique et Connaissance scientifique) which he edited in 1967.
Agenda of a meeting in which J. Piaget and G. Juvet took part
Outside of the meetings, the members were free to go to the Club where they could work, use the library or examine the collections. They recorded their visits in an attendance register which rapidly became a collection of schoolboy observations. Piaget, I may add, was an enthusiastic contributor (see copy).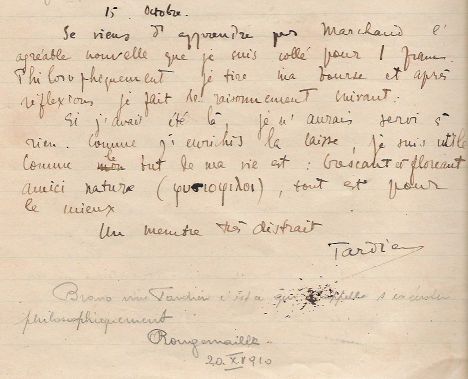 A page from the meeting book. J. Piaget's "nickname" is Tardieu


By participating in the Friends of Nature, Piaget was able to counter his image as a young, solitary academic which was how he was sometimes described. In truth, the Club provided the future scholar with an extremely valuable intellectual and social environment.

Sources
Fernando Vidal (1996). Piaget Neuchâtelois. Bibliothèque publique et universitaire de Neuchâtel.
Fernando Vidal (1996). Piaget « Ami de la Nature ». In J.-M. Barrelet & A.-N. Perret-Clermont (dir). Jean Piaget et Neuchâtel: l'apprenti savant. Lausanne: Editions Payot.
Guinand, N. & Lüsher, R. (Eds) (1993). Amici naturae, Un siècle, une histoire. Document publié à l'occasion du 100e anniversaire de la fondation du Club des Jeunes amis de la nature.

Piaget, J. (dir). (1967). Logique et connaissance scientifique. Paris: NRF (Encyclopédie de la Pléiade).

Attendance registers of the Young Friends of Nature Club (1909-1928).